Empower Your Business with a Solar Investment
Sole Accountability At Every Step
From financial and tax analysis, to design, engineering, procurement, and construction – Scalo Solar provides end-to-end solutions to ensure that our commercial clients are optimizing the available tax credits and energy output of their systems.
We custom-build each array and provide financial modeling that can show you exactly when you can expect a return on your solar investment.
Roofing + Solar. The Scalo Advantage.
Bifacial solar panels are capable of generating solar energy from both sides of the panels.  At Scalo Solar, we have a Private Letter Ruling allowing our partners to consider the reflective roof as energy generating property giving us access to greater tax advantages and increasing your return on investment.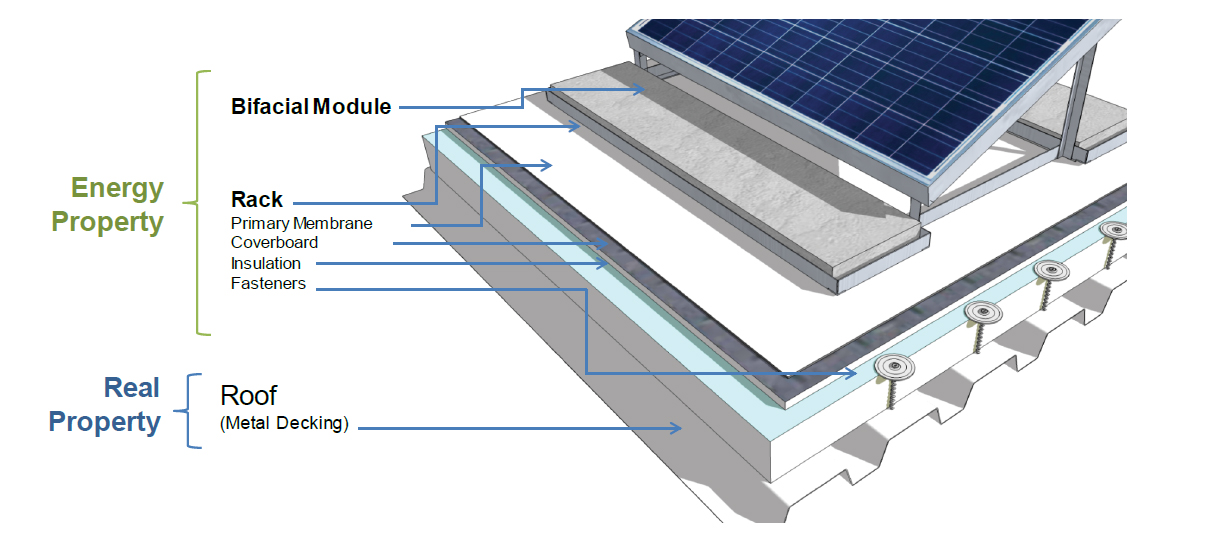 It Begins with the Roof.
Since Scalo Solar's roots are planted in the roofing industry, our customers can be assured that their roofing system is protected during installation and installed to meet manufacturer specifications.
Ensuring Roof Warranty.
Scalo Solar Solutions is experience in rooftop photovoltaic systems and will ensure that manufacturer warranties remain intact for their duration. Additionally, we are an approved applicator of all major low-slope and steep-slope roof systems and collaborate with roof manufacturers to ensure our clients' questions are answered and their PV roof modifications are approved.
It's About Peace of Mind.
We give building owners a peace of mind that your roof is cared for and treated as an integral part of the photovoltaic system.
Battery Systems
Tax incentives have been expanded to stand-alone systems with battery storage thanks to the Inflation Reduction Act.
A battery system allows for your energy storage onsite to provide a reliable and uninterrupted power supply.
Now stand-alone storage qualifies for 30% ITC
We can add it on to your existing solar system
Can be used in both commercial and residential applications
SOLAR DEVELOPMENT

FINANCIAL ENGINEERING

TARIFF, ENERGY DEMAND, & PV YIELD ANALYSIS

PV DESIGN

PV INSTALLATION

NON-PROFIT/MUNICIPAL SOLAR
SOLAR LEASE/PURCHASE

SYSTEM MAINTENANCE

MONITORING, DESIGN, & CONFIGURATION

GRANT ASSISTANCE

UTILITY INTERFGACE

PV-READY ROOF DESIGN
What Our Customers are Saying
"Scalo Solar Solutions is a valuable partner to Goodwill. Our joint commitment to the environment and their creative financial analysis made solar possible for our new, environmentally-friendly flagship store. Furthermore, they worked within our aggressive deadline for opening and had the project commissioned ahead of schedule."

–
"I recognize and appreciate the efforts of the Scalo Solar Solutions team for working so diligently with the Giant Eagle team to meet all critical deadlines. The project went very well, and I am thankful for the work they have done."
"The Sunscape Demonstration project shows the rest of the country how we can make sustainable roofs affordable on all types of buildings"

–
Monitoring & Interactive Displays
"According to a 2014 survey by Nielsen, 67% of respondents prefer to work for a socially responsible company, and according to a recent survey by Deloitte, 50% of millennials want to work for a company with ethical practices." –FAST COMPANY Interactive display monitors on your website or in your lobby are a great way to communicate your sustainable corporate mission to customers, employees, and potential employees. Hire and retain top talent as you create an edge over your competitors.
We offer a monitoring solution that creates a strong visual statement and can educate and interact with your guests.